All,
The situation I have right now is the same as the QuickJack without backup jack stands - with the extra lift movement factor Magnified mentioned. What Bull and DGatzby do with their hydraulic lift to achieve redundant support sounds safe. Figure the odds.
I got these 250 lb. sliding jacks recently, and the Titan rep who came to my house put them inside the ramps. He adjusted the cables so the lift's locks lock and unlock almost simultaneously. This fine adjustment after a year of cable stretching and use keeps the lift very level when it goes up and down.
Ramps on the ramps to raise just the front of the car might work. Bull, the ones in your link that cupped the tires - plus they would serve as "stop points" driving onto the lift. They claim to keep the tires round during storage. Three improvements in one product. But driving the car onto the lift is an exacting thing already. I bought the widest version of the 8,000 lb Titan lift. The Challenger's clearance for the mirrors is pretty tight. I don't have to fold them each time (probably should!). Sometimes I have to roll back and forth to get the tires centered on the ramps.
In this picture of the right front you can see I have one small black iron spacer, the rubber lift pad, and on top of that a wooden block. Bolted into the frame's pre-drilled hole is a plastic lift pad I bought from
liftpadpros.com
and the wood block contacts that pad. I could reconfigure all or some of that for a taller spacer and get the current height up to where I can slide those red jack stands under the pinch weld. I'll do some measuring.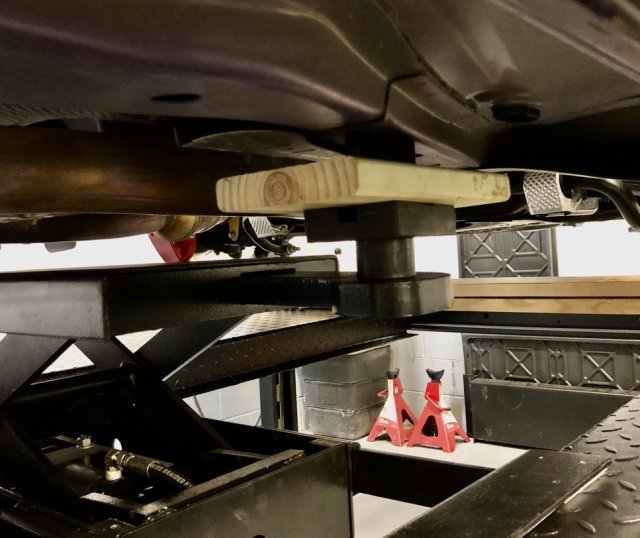 Rear has less room for a jack stand base. I appreciate the point made that I should find a wide base scissor jack if I go that route. There are some like this Torin model. It's less expensive than the Tonda, and rated at 3,000 lbs not 4,000 lbs.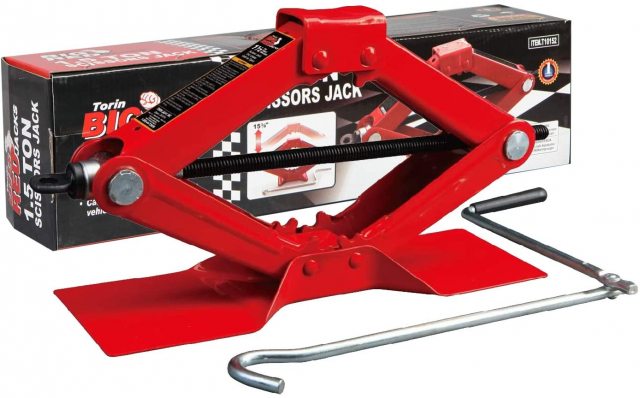 The rear is more problematic. You can see the proximity of the pinch weld just aft of the factory frame lift pad. I can move that block if need be, but a too wide scissors jack base might conflict with the sliding jack's support tongue. To recap, my idea is to have four scissors jacks raised up to contact the pinch welds - snug them up so they're not going to move - and they function like jack stands backing up the primary Titan jack's mechanical locks. The bonus is that were a Titan jack to pneumatically fail so I can't lift the car up to release the mechanical lock I could lift it with the scissor jacks.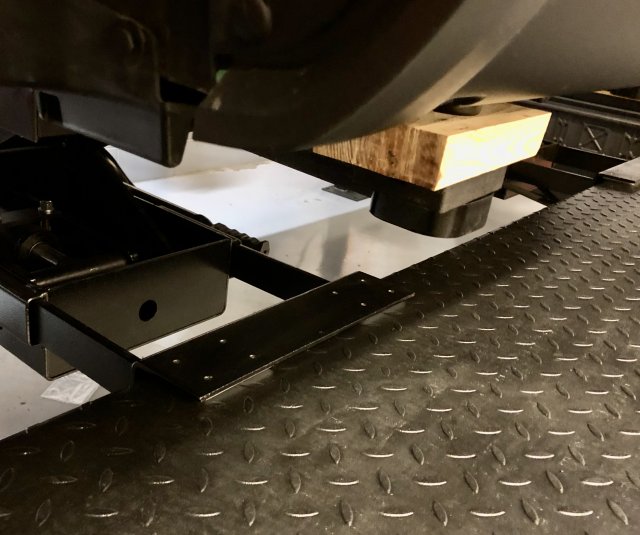 Thanks for the feedback - much appreciated. I have a scissors jack for another car so I think I'll at least see if it will fit.
Best,
Finface